Music Lessons for kids to adults in the Sydney Hills District
Maxx Music Makes Musicians
A few words from some of our music teachers
A song from our music teachers
Sydney's Largest Music School
At Maxx Music we know that choosing the best music teacher for your child can be difficult. You need to find someone with the right skills and qualifications, in a convenient location, at a time that suits you, who you know has been cleared to work with children – the list is endless!
Let us take all those worries away.  Maxx Music provides high quality music tuition for Sydney Hills District families, with schools of music in Castle Hill and Rouse Hill Town Centre.  We have been teaching music for 30 years and have a fabulous team of talented, committed music teachers who use our proven learning system to ensure your budding musician is engaged and reaching their potential. Our experience of teaching children, young people and adults to play an instrument or to sing is second to none.  Add to that our convenient opening hours and flexible payment options, and we know the whole family will have a great experience learning with us.
We offer individual private music lessons in piano, guitar, drums, bass, violin, vocals, brass and woodwind instruments during school term. Lessons are one to one so students receive the individual attention they deserve, this also allows us to make them age appropriate, adapt to meet individual needs all while ensuring your child progresses at a speed which works for them. Our Music School has some of the best music teaches in Sydney all skilled at making their music lessons fun and engaging while promoting a life long love of music.  Music Lessons run for 30 minutes and cover learning to read music in a simple and fun way and developing great playing technique from the beginning.  Many of our advanced students choose to study for AMEB and Rock School exams.
At Maxx Music, we believe that music is an essential part of life! We love contributing to our students musical journey, and seeing where their talents take them. Many studies show that learning a musical instrument benefits the physical, mental and emotional health of both children and adults. Children and their parents often notice increased learning ability, better concentration levels and improved coordination. Music Lessons also teach discipline, nurture creativity and have been shown to improve self-esteem and confidence. For adults singing can be a great stress buster, mood lifter, memory booster as well as a great way to meet new people.
Maxx Music Lessons School News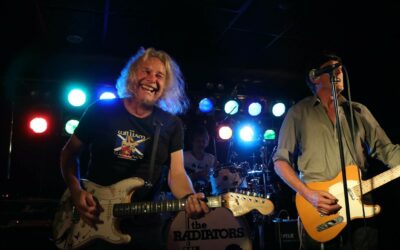 Teacher Number 1 Returns!! Close to 30 years ago, Maxx Music founder and owner Ben Finn built a single teaching room to facilitate guitar students at his Parramatta store location, and the guitarist who taught out of that room was Brenton Dehn. Ben Finn's guitar...
Creative Kids NSW
Maxx Music is proud to be a registered provider for Creative Kids NSW.  This means that you can use your $100 Creative Kids Voucher when you book and pay for lessons, school holiday workshops or our weekly groups.  To redeem, just print out your voucher and bring it with you.  To find out more about Creative Kids NSW and to apply for your voucher, please click here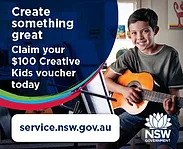 My son has been taking guitar lessons with Maxx Music Castle Hill for more than 3 years. It is one of the best decision we have ever made in promoting his love of music. Thanks Kerrie for her advice in helping us to choose the right musical instrument. Chris, the guitar teacher has been a supportive and engaging teacher who is passionate about developing skills of his students. Our weekly lessons are one of the highlight of our week as we have a very experienced guitar teacher whom he adores. I highly recommend Maxx Music.
I have been dealing with Maxx Music Stores for several years now and it is my pleasure to attest to my great satisfaction with the service and technical support I have received. I have acquired two stunning pro Fender electric guitars from the business, had several services and repairs performed on my All Valve and Solid State Marshall Amplifiers, had my very hard working Les Paul serviced and repaired on several occasions to my great delight and satisfaction. Can I say more! Rock on Maxx Music. I am Mike and I sure will continue to use the services of Maxx Music🤘
Frequently Asked Questions
What age do you need to be to take lessons?
Our private individual music lessons are suitable for school aged children 5 years old and up. We find that five years is generally the best age to start practising weekly and being able to focus during lessons.
Do you offer group lessons?
Our experience has shown that students grow better as musicians in a focused 1-1 environment so our ongoing lessons are individual and adapted for each students learning style. From time to time, we offer group workshops and school holiday programs which are great for exploring new interests – call our friendly team to find out upcoming dates.
Do you teach adults as well?
Yes, at Maxx Music teach students of all ages! It's never too late to learn to play an instrument or take singing lessons. Our teachers will tailor music lessons to suit your needs and goals.
You say you have flexible payment terms. What does that mean?
Whilst you are welcome to pay for a full term of lessons, you are not obliged to.  You can pay for a full term, a half term or a minimum of 3 weeks lessons in advance.  These can be paid for in cash, credit or Direct Debit.
What happens if I can't make a lesson?
Give us a call as soon as you know you can't make it – provided you let us know before your lesson is due to start and tuition fees are up to date, we can  schedule a make-up lesson.  We offer all students the flexibility of up to three make-up lessons per term, subject to availability. See our Make-Up Policy for full details.
Do you prepare students for AMEB exams?
Yes, our teachers are well trained to prepare you or your child for AMEB exams. Your teacher or lesson coordinator will be happy to take you through how the process works. Our retails stores offer a comprehensive range of AMEB books so that you can find the perfect examination piece.
Do students get the opportunity to perform?
Absolutely! At Maxx Music we know that performing is an essential element of learning to play an instrument or sing.
Our Showcase Performances give our experienced students or students who have progressed exceptionally well an opportunity to perform in a larger, external venue.  'The Session Space' at Rouse Hill is used regularly for smaller recitals.
In addition, we are often invited to perform at events and festivals providing our more experienced students with even more opportunities to develop their performance skills.
How can I redeem my Creative Kids Voucher?
Give us a call – Maxx Music is a registered Creative Kids provider so you can use your voucher towards lessons and holiday workshops. To redeem we just need your printed voucher and your child's birthday.

CASTLE HILL
3 PACKARD AVENUE CASTLE HILL NSW
(just off Victoria Avenue)
 
ROUSE HILL
ROUSE HILL TOWN CENTRE 10-14 MARKET LANE
(near Rouse Hill Medical Centre)