Private ukulele lessons at Maxx Music Castle Hill and Maxx Music Rouse Hill
Congratulations on taking the first step to realising your dream to play ukulele.
Maxx Music Lesson Schools in Rouse Hill and Castle Hill are recognised as the largest Music School in Sydney, providing piano tuition to students of all ages from 5yrs + to adult and all levels from beginner violin to advanced piano lessons.
At Maxx Music we love the ukulele!  The ukulele is a great introduction to music for both children and adults.  They are fun, easy to get to grips with and won't break the bank if you decide it is the instrument for you!  The ukulele is also a sociable instrument, which can be learnt and played individually or as part of a group – or both!!  Whatever you want to do, Maxx Music can help you achieve your goals.
HOW LONG IS A LESSON?
Lessons are available in 30mins blocks.  We have found that a 30mins lesson provides enough material for students, with otherwise busy lives, to keep them stimulated between lessons and progressing at a sustainable pace.  For those who are wanting a more intense program, hour long lessons are available.
DO I NEED MY OWN UKULELE?
Yes.  Buying a ukulele is a small investment for lots of fun!  However, we do have a few ukuleles that we can use, during the sessions, while you decide whether the ukulele is for you.  We do recommend you buy yourself one after a couple of weeks though, as you'll learn more quickly if you can practice at home.
HOW OLD SHOULD MY CHILD BE TO TAKE UKULELE LESSONS?
It is our experience at Maxx Music that children need to be of school age to achieve the best results from their guitar lessons.  However, there are always exceptional cases. Adults and mature aged students are encouraged! Currently our youngest student is 5yrs and our most senior student is a sprightly 70 years of age.
WHY YOU SHOULD TAKE LESSONS WITH MAXX MUSIC? 
Over 10,000 students can't be wrong!!
At Maxx Music we understand that choosing the right music school for your ukulele lessons in North West Sydney is a very important decision.  To get the best results from your ukulele lessons, or your children's guitar lessons, you require skilled guitar teachers who can guide you to realise your goals in your chosen genre.
Many of our teachers are professional, working guitarists, not only skilled in their instrument but as performing entertainers.  All of the Maxx Music guitar teachers have undergone and passed a rigorous induction to ensure you the best outcomes for your investment.
DO YOU OFFER GROUP LESSONS?
Ukulele is the only instrument that we DO offer group lessons on a regular basis.  Please visit our Play With Others MMUGs Ukulele page to find out more about our groups, which start with Absolute Beginners and offers a variety of ways to progress as you learn more.  However, if you are really keen to get playing and don't want to progress at the speed of a group, we find that people learn more quickly and consistently in a focused one on one environment.  By offering one on one lessons it is possible to individually tailor all lessons for the student.  
ARE UKULELES EXPENSIVE TO BUY?
No!  That's one of the many reasons we love them.  You can own your first ukulele for under $100 with prices starting at as little as $40.  BUT, you may want to spend a bit more, if you can.  A small increase in the amount you pay can make a huge difference to the sound you make.  You might also want to explore a different sized ukulele e.g. if you find the soprano a bit small for your fingers – soprano, concert (slightly larger) and tenor ukuleles all have the same tuning.   So maybe budget closer to $100 to get an instrument that will last you for longer.  Our knowledgeable, experienced sales staff in Castle Hill and Rouse Hill stores will be able to help you find the perfect ukulele for you and will help you set up and tune your new ukulele if needed. Maxx Music also offers a maintenance and repairs service so that your ukulele can always in perfect condition for your lessons. And don't forget, as a student of Maxx Music, you receive a 10% discount on all store purchases!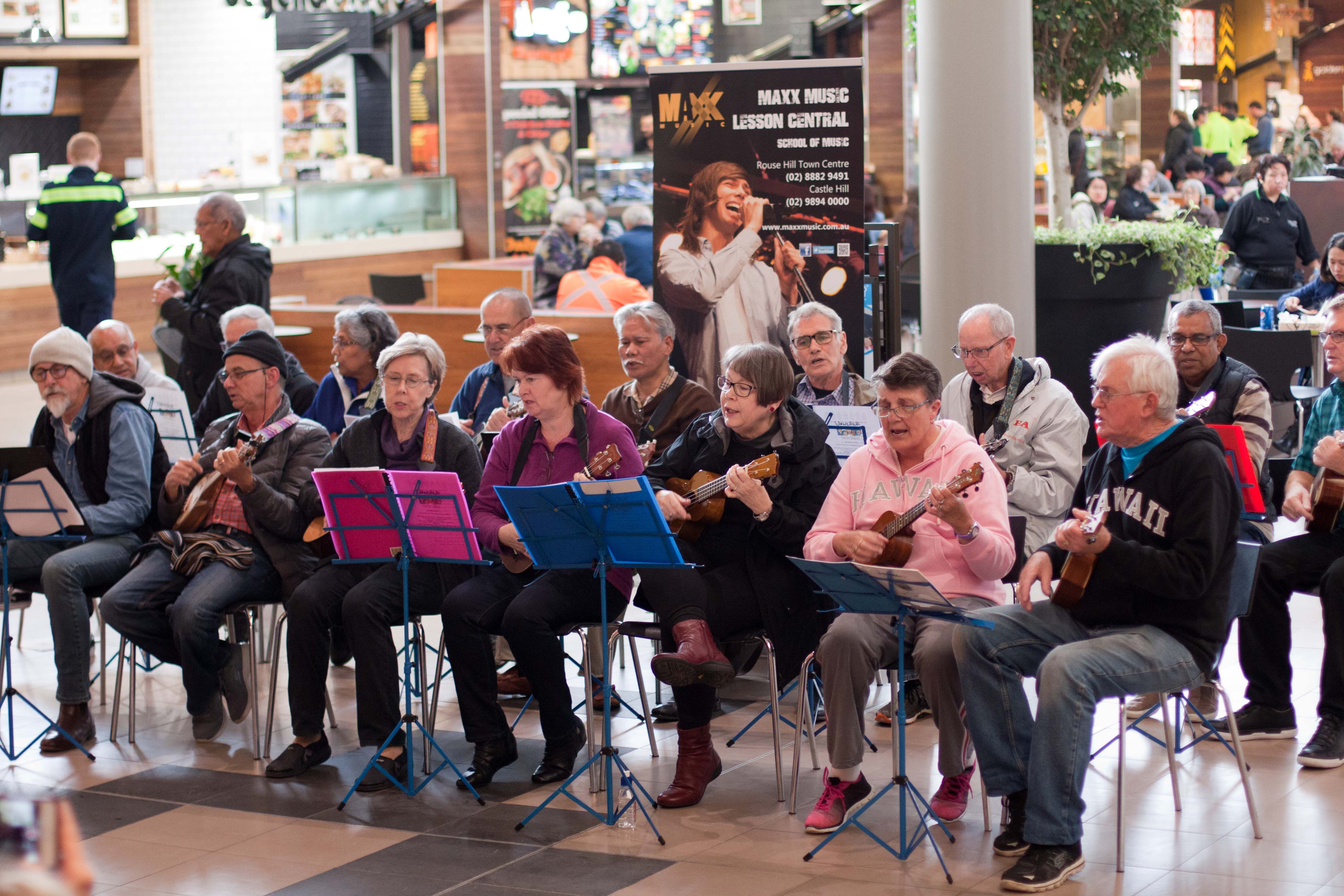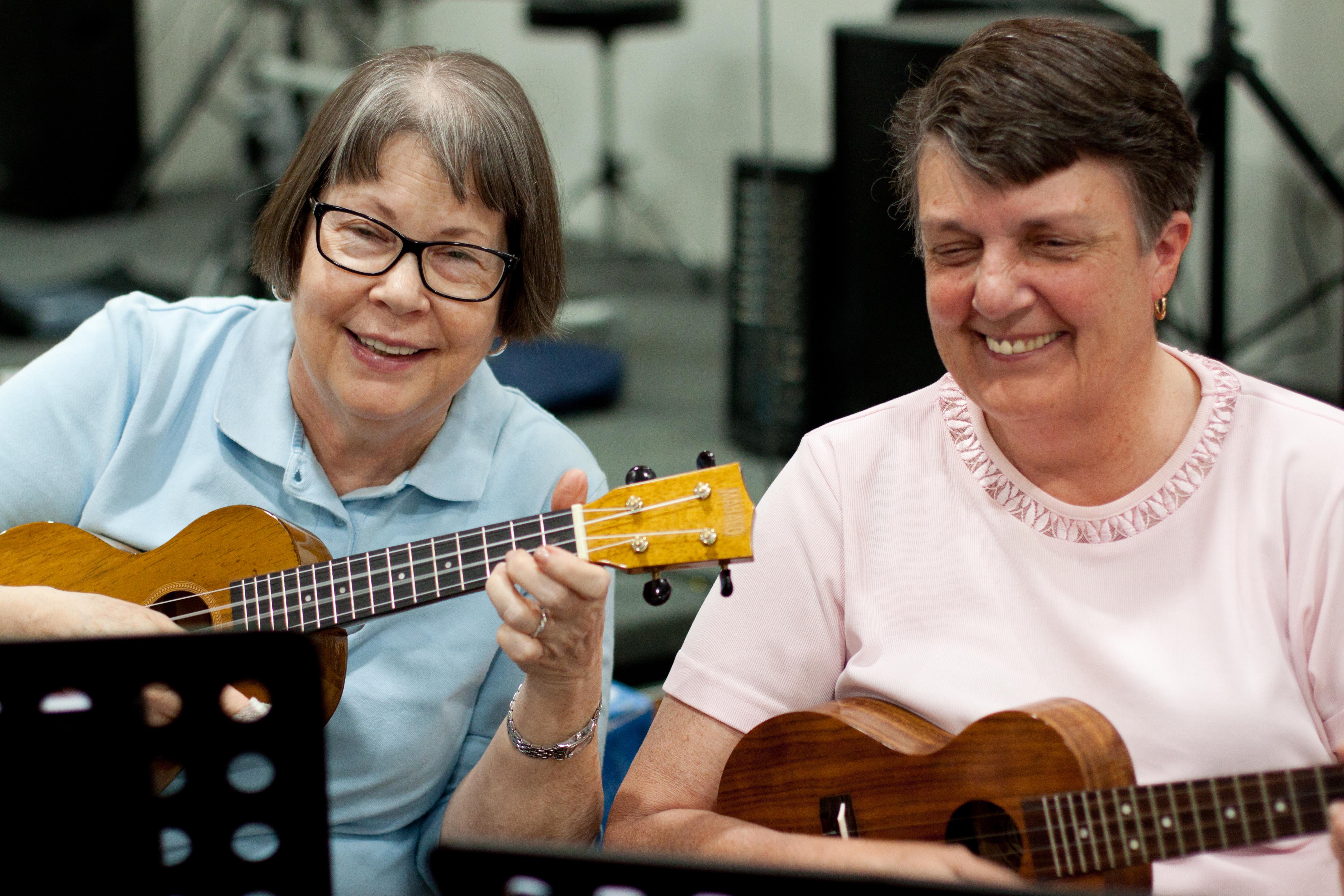 Do students get the opportunity to perform?
Yes.  At Maxx Music we know that performing is a really important element of learning to play an instrument or sing.  We have a small workshop/performance space called The Session Space at Rouse Hill which we use for small recitals for younger or less experienced students.  In addition, we also have a showcase performance once a year where more experienced students can perform.  
I have a Creative Kids NSW Voucher.  Can I redeem it at Maxx Music?
No problem!  As a registered Creative Kids provider you can use your voucher towards the costs of one on one guitar lessons (minimum 4 lessons), our one-day holiday workshops and our weekly groups and classes.  Just print off the voucher and bring it in with you.  We'll also need your child's birthday so that we can redeem your voucher. 

Frequently Asked Questions
Maxx Music offers private ukulele lessons for students of all ages and ability. As the lessons are on a one to one basis, our tutors are able to make the lessons fun, age appropriate and can ensure that the student progresses at a speed which works for them.
Lessons are offered in two convenient locations – Castle Hill and Rouse Hill. Each location is well serviced by public transport and has ample parking.
Lessons can be booked in 30mins blocks which, in our experience, is the ideal lesson length to maintain concentration and maximise results. For more advanced students and those studying for exams, longer lessons can be booked.
All Maxx Music tutors are suitably qualified to help students achieve their musical ambitions, with many of them having studied music to degree level or higher. Equally, many of our tutors enjoy highly successful careers as professional musicians.
All Maxx Music teachers have current Working With Children checks, as a legal requirement, and are trained in our Child Safe policies, procedures and good practice.
For those who would like to formalise their music education, Maxx Music can help you study for, and pass both AMEB and Rock School Exams. Follow the links to discover more about this.
Maxx Music offers regular opportunities for students to perform for friends and family.
Maxx Music offers a selection of payment packages to suit all budgets, offering discounts for bulk lesson purchases.
Maxx Music offers a generous Make-Up Policy.
As a Creative Kids Provider, Maxx Music is able to accept Creative Kids NSW Vouchers as part payment towards a minimum of four private lessons.
Contact us for details of costs and introductory offers.
Child Safety
At Maxx Music, we take the safety of children in our care very seriously.  Maxx Music is a Child Safe Organisation.  This means that, as well as our teachers all having valid Working With Children Checks, we have clear and robust Child Safety Policy and Guidelines.
Do I have to read music?
No, although it doesn't hurt if you can.  Most ukulele songs that we use have the chords written above the lyrics and chord diagrams alongside the lyrics which show you which fingers to place on which strings to do so.  With time, you may progress to tab, which shows the four strings of the ukulele as lines and which finger to use as numbers, offering another great and easy way to read and play music without being able to read music score. 
Can we take exams?
Yes.  RockSchool, which is offered by the AMEB examining board, offer Australia's first ukulele exams.  Maxx Music can help you study for, and pass, these should you decide to formalise your ukulele playing and learning.  Find out more about the RockSchool Ukulele exams on the AMEB website and find out more about how we can help you here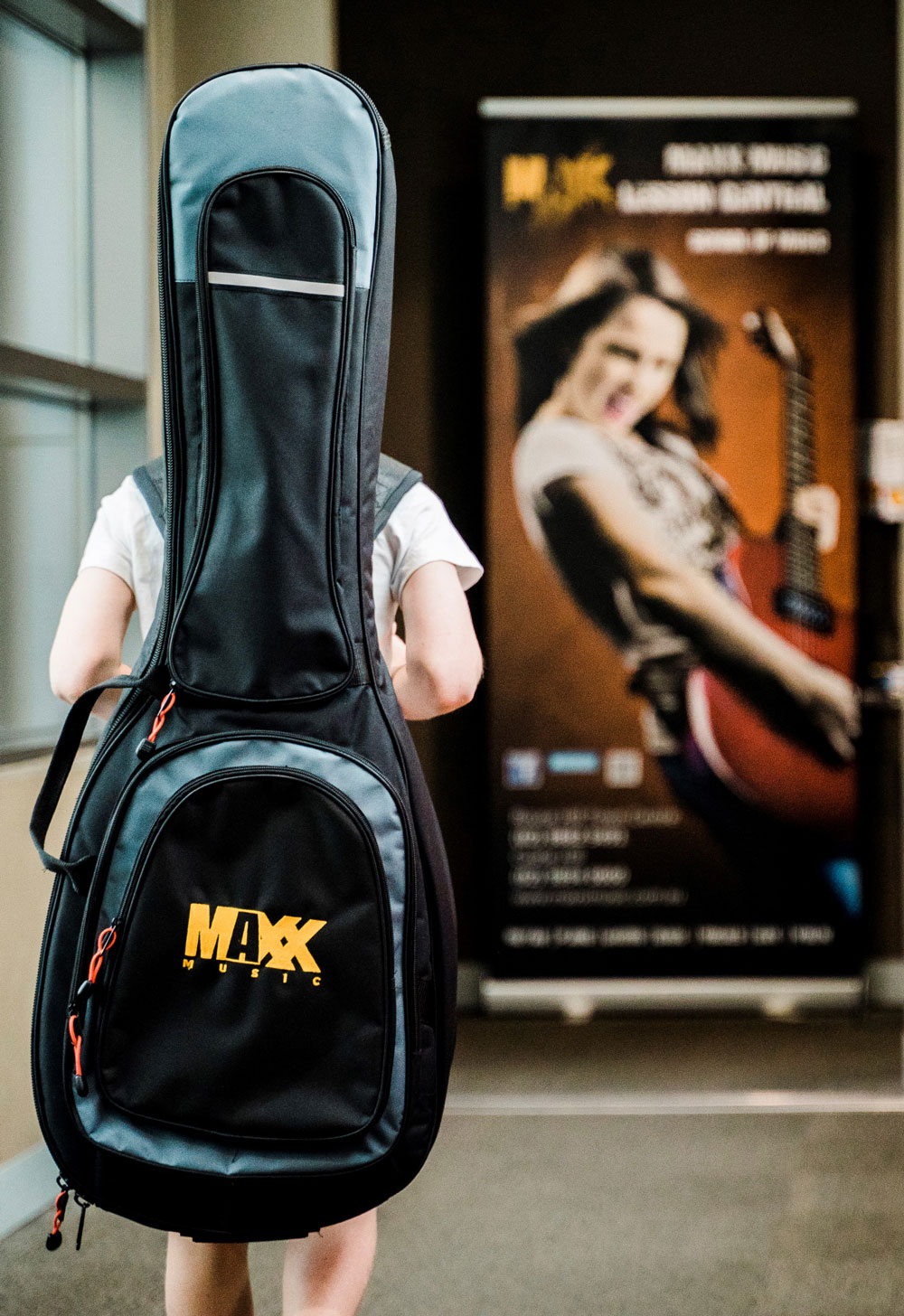 CASTLE HILL
3 PACKARD AVENUE CASTLE HILL NSW
(just off Victoria Avenue)
 
ROUSE HILL
ROUSE HILL TOWN CENTRE 10-14 MARKET LANE
(near Rouse Hill Medical Centre)