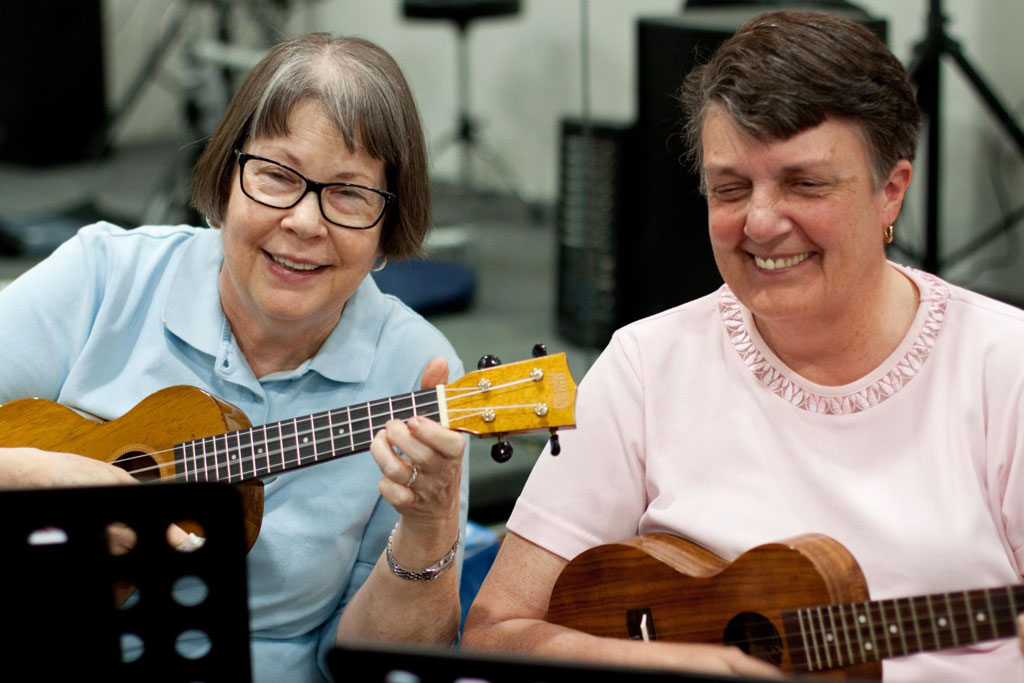 Ukulele Group Lessons Rouse Hill
Maxx Music Ukulele Groups (M.M.U.G.s)
At Maxx Music we love the ukulele! The ukulele is a great introduction to music for both children and adults. They are fun, easy to get to grips with and won't break the bank if you decide it is the instrument for you! The ukulele is also a sociable instrument, meant to be learnt and played as part of a group. 
With Maxx Music's ukulele groups, you don't need to have played the ukulele before or be able to read music. We even have a limited number of ukuleles you can borrow for the first couple of lessons while you find your feet. New members always welcome.
As a registered Creative Kids provider, you can use your $100 Creative Kids Voucher towards these group sessions.

Saturday Ukuleles – Absolute Beginners 2-3pm
This course is for anyone who would like to learn to play ukulele.  During this 10 week course, you will learn well known tunes and songs that you can play at home. You will also learn how to tune your ukulele, basic strumming techniques and the chords you need to play almost anything!  Each session will be progressive and hands on.
Suitable for children aged 7yrs+ (Year 2 upwards). Children under 16yrs must be accompanied by an adult

Cost: $100 for 10 week term .
Seniors Beginners Ukulele
First 2 weeks of every term 10.15-10.45am  FREE
Begin at the very beginning with this 2 week intro to the ukulele class for absolute beginners.  The aim of the class is to provide you with the skills and confidence you need to join our 11am Thursday Ukuleles.  You don't need to be able to read music or have played an instrument before.  We even have a limited number of ukuleles you can use while you find your feet.  
Saturday Ukuleles – Sing & Strum 2.30-3.15pm
Have you been learning to play the ukulele at school or have you mastered a few chords on YouTube?  Join our SING & STRUM group. 

The ukulele is an instrument made to be played with others.  SING & STRUM is Maxx Music's newest Ukulele Group created to provide you with the opportunity to meet and play music in a fun and supportive group. 

We are keeping it easy and accessible to enable people of all ages and ability to join in.  We will be exploring lots of different songs but keeping it simple by using a basic 5 or 6 chords as the basis for everything we play.

Suitable for players 7yrs and upwards.  Children under 9yrs must be accompanied by an adult.
​Next Steps Ukulele  Saturday 3.15-4pm
You may already have done our Absolute Beginners Class or know the basics from YouTube or school.  This group is a continuation of the group lesson in that you will be continuing to learn new chords and techniques, developing your playing as an individual and as part of a group.  We play contemporary repertoire and progress at a quicker pace than Sing & Strum.
​Recommended for 12yrs +.  Younger players welcome but must be confident in their ukulele playing ability.
Intermediate Ukuleles Saturday 4-5pm 
This ukulele group is for adults and young adults who play the ukulele fairly confidently.
 You will already know the basics and will now be looking for a challenge.  We work together to decide what songs we'd like to learn and then give it a go. As well as learning well known tunes and songs you will also learn more complex strumming patterns, additional chords and explore ukulele tabs and finger picking. The group is a cross between a jam session and a group lesson. 
​Cost: All Saturday Ukulele Groups $10 per week.  
10% discount if full term paid in advance.
Thursday Ukuleles 11-12pm
Take your next steps and play as part of this sociable, fun group.  Develop your skills, learning new chords, strums and more.  Suitable for players with basic strumming and some chords (at least C, F, G, G7 and Am) or have experience playing the guitar so that you aren't a complete beginner.  
Thursday Ukuleles 1-2pm
Are you over 55yrs, play ukulele and looking for a sociable group, passionate about playing ukulele together, to join?  If so, Thursday Ukuleles is the group for your. Join Arthur Ongley from Parramatta and Hills Ukulele Network (PHUN) and the rest of the group for weekly ukulele fun.
​We play from a set of Songbooks put together by Arthur and members are also welcome to bring in and lead songs of their choice.   
​Our Thursday Ukuleles has been running since May 2017 and is a friendly, welcoming group who meet each week to develop new ukulele playing skills and techniques, to learn new songs and to have fun playing together in this sociable group.  New members always welcome.
Cost: All Thursday Ukulele classes are $10 per week or $8 for 3 weeks or more.
If you would like to know more send us a message  or give us a call

CASTLE HILL
3 PACKARD AVENUE CASTLE HILL NSW
(just off Victoria Avenue)
 
ROUSE HILL
ROUSE HILL TOWN CENTRE 10-14 MARKET LANE
(near Rouse Hill Medical Centre)