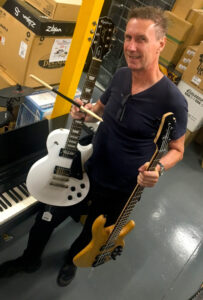 Piet has been at Maxx Music for nearly half a decade!
Piet started learning piano at the age of ten, adding drums and guitar three years later.
Over the years he has played in many original projects and cover bands around Sydney and internationally, from playing bass in his teenage band in the 70s to Jazz drums residencies in Indonesia. Piet is a grandfather of two and has two grown up kids, both of which are accomplished musicians.
Piet says "I have worked in many industries and I find teaching music the most enjoyable job I've had in my life".
Piets main instrument is drums but also teaches guitar, bass and keys.
If you are looking for a tutor who is great with kids and always has a welcoming smile look no further.