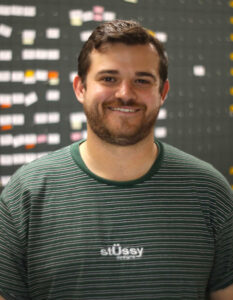 Mr Joe Macrae
Joe finished his Bachelor of Music in Contemporary Performance at the Australian Institute of Music in 2016, and immediately came on board as a guitar and bass teacher at Maxx Music Castle Hill. Whilst teaching he spent his days completing his Masters of Music, which was centered around Jazz Fusion electric bass, double bass technique and live synthesized bass performance.
Alongside this academic journey, Joe's performance experience as a bassist includes touring the east coast from Melbourne to Cairns with an international Elvis show, sight-reading gigs and musicals, tribute shows and covers bands around New South Wales and original jazz gigs. As a long-term teacher at Maxx Music he has an exemplary student retention rate and success with students in Rockschool and Comprehensive AMEB guitar exams.
In August 2022 Joe moved out of teaching and into a full-time role in the lessons school, which over the following months quickly developed into the role of School Principal. This role puts him in charge of policies and procedures within the lesson school and overseeing the teaching staff and organizing additional activities that supplement the core operations of the business. His academic, performance and teaching experience puts him in a position to help guide the Maxx Music lesson school to offer the highest quality lessons and assure a consistent level of quality continues teacher to teacher.