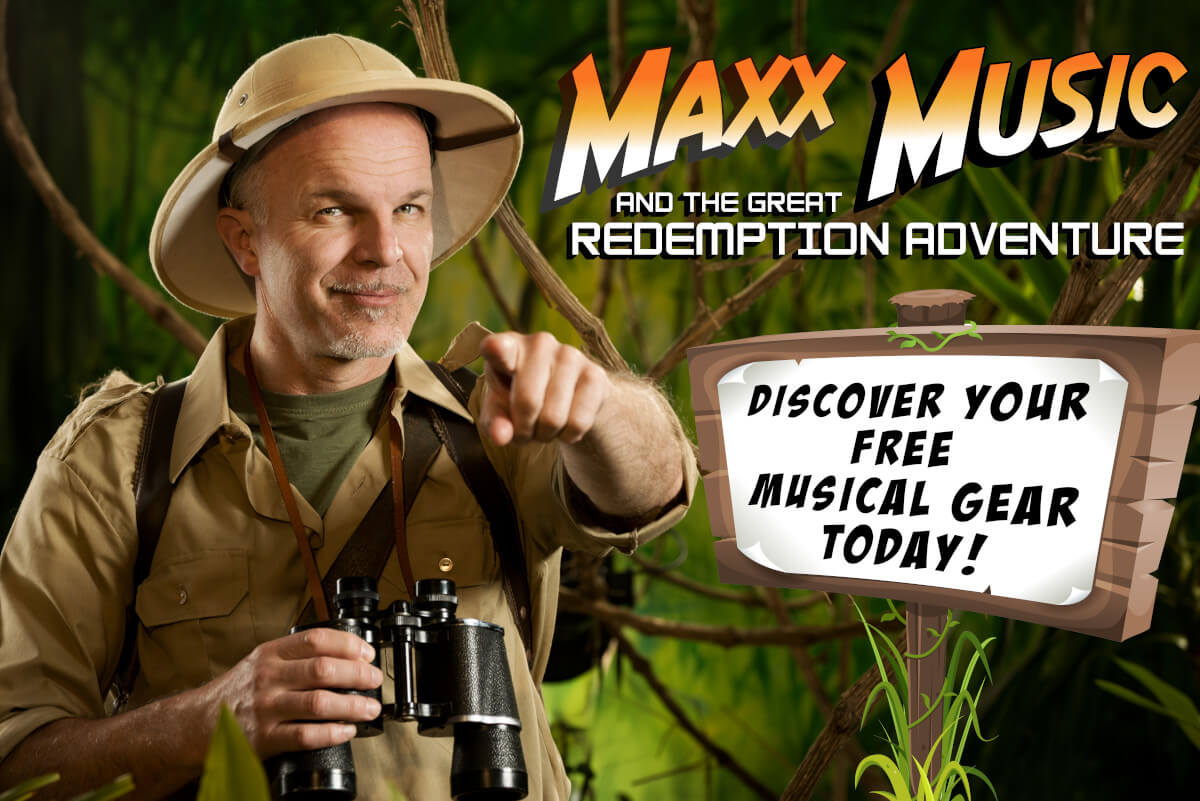 IT COULDN'T BE EASIER!!
Simply give these free lesson cards to friends, neighbours, family, ANYBODY.. and earn 100 redemption dollars
FOR EVERY NEW MAD MAXX MUSIC STUDENT!
Use these dollars to buy musical goods and gifts… save them up… do anything you want with them!
Inside you will find some great examples for you to choose from… or make up your own wish list!
Free Lesson cards automatically link to your redemption account, so all you have to do is give them away!
Need more lesson cards? No problem simply request as many as you want from your lesson coordinator
Xmas is close so don't wait! Start earning redemption rewards now!
Terms and Conditions
Free Trial vouchers are valid for NEW STUDENTS ONLY.

Free Trial Referral vouchers must be presented to lesson staff on arrival in order to redeem their free lesson.

In order to receive $100 credit against your Maxx Music Account, the referred customer must purchase 10 lessons.

Credit can be used to purchase any Maxx Music Product in stock at full retail (either in part or full).

There are no limits on the number of Referral vouchers you can distribute.

There is no limit on the amount of credit you can accumulate.

Credit must be used within 24 months from the date of referred enrollment.

Credit cannot be used to purchase already discounted products.

Credit cannot be used to purchase a gift voucher.

Credit cannot be used to purchase online products. Only accepted instore.

Credit cannot be used towards lesson fees.

Credit cannot be converted to cash or transferred.
 
CASTLE HILL
4/3 Packard Avenue, Castle Hill, NSW 2154
(just off Victoria Avenue)
 
ROUSE HILL
10-14 Market Lane, Level 1, Rouse Hill Town Centre, NSW 2155
(near Rouse Hill Medical Centre)
Castle Hill Music School Opening Hours
Mon-Thurs: 2:30pm-8:00pm
Friday: 2:30-6:00pm
Saturday: 9:00am-4:00pm
Sunday: Closed
Castle Hill Store Opening Hours
Mon-Fri: 9:30am-6:00pm
(School Holidays Closed 5:30pm)
Saturday: 9:30am-4:00pm
Sunday: Closed
Rouse Hill Music School Opening Hours
Mon-Thurs: 2:30pm-8:00pm
Friday: 2:30-6:00pm
Saturday: 9:00am-4:00pm
Sunday: Closed
Rouse Hill Store Opening Hours
Mon-Fri: 9:00am-5:30pm
Thursday: 9:00am-9:00pm
Saturday: 9:00am-5:00pm
Sunday: 10:00am-5:00pm